We supercharge the full innovation team
Healthcare data is too messy and the decisions too nuanced and important not to have close collaboration between analytics consumers—clinical, financial, and operational change agents within the enterprise—and data professionals. Too often, however, a ticketing system separates potential partners, resulting in mistranslated requests, lost time, and a final analysis that doesn't actually answer the question.
Ursa Studio transforms the way innovation teams work in your organization. Advances such as the ability to auto-detect relationships within the data architecture, "define it once, use it everywhere," and author complex and bug-free SQL in just a few clicks mean solutions can be created more swiftly, efficiently, and accurately. Each team member gains new time and capabilities.
Take a look at our product manual to learn more about how Ursa Studio works.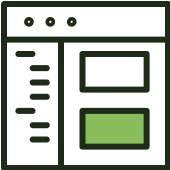 have clear, interpretable access to data definitions and decisions, allowing them to play a much more active role in guiding those decisions and shaping the production of the analytic answer that will guide their business actions.
can partner with analytics consumers to identify the insights and then—instead of handing off the next report request to IT—can apply their keen understanding of the next question to ask in producing the next analytics layer, no matter how deep the data work.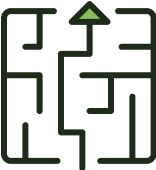 Data programmers and data scientists
rise above the plumbing of coding each transformation and tracking each ETL dependency, with time returned for understanding and integrating new data sources and creating more advanced analytics (e.g., predictive modeling).
Analytics tools that grew up supporting financial or Internet companies are tuned for transactional data and short intervals between the events being compared.
Ursa Studio was turned to make full use of healthcare's richly varied data. The platform stitches together a patient's winding journey into an analytics-ready episode, thereby more readily answering healthcare's uniquely challenging questions.
Your environment, your choices
The path from raw data to real performance improvement has a standard set of steps, but each organization performs those steps very differently. Ursa Studio enables nearly infinite variability—all while enforcing data integrity best practices. Use our platform end to end, or easily connect it to other analytics tools to create a rich decision-making environment tailored to your precise needs.

We'll support you every step of the way
So many data analytics projects fail because of gaps in in-house knowledge, expertise, or resources—gaps that aren't always easily filled by your analytic partners. That's why Ursa Health has created strong, thorough, and flexible options for you to choose from as you build your knowledge of Ursa Studio and become part of our Community.
Want to learn more about Ursa Studio?
We've got more to tell you. Use any of the following links to learn more about our:


We'd love to hear about your ideas for innovating in your organization and see if we can help ease you past your pain points.